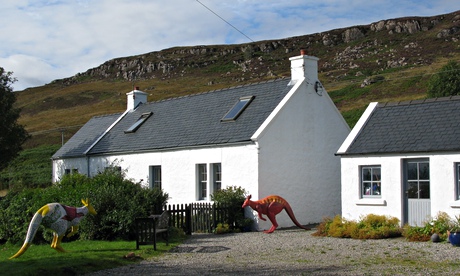 The postcard-pretty whitewashed croft house, with grey-blue paintwork, dates from 1903 and is easy to spot, with its two colourful kangaroos outside. As I crunched up the drive, Alan, in bright Fair Isle jumper, greeted me with the welcome words: "Don't worry. I can rustle up a chicken curry."
I had traipsed round Portree searching for dinner, only to be met by signs saying "Closed for winter," and "See you in March." An out-of-season trip to the Isle of Skye was starting to look like one of my less inspired ideas. It had been a magical drive, the sky a watery blue, snow dusting the mountaintops and the roads empty. You might go hungry, but road rage won't be an issue.
The cottage is a Tardis. Inside are three bathrooms and four bedrooms, one of which, a large double/twin on the ground floor, is let out for B&B. The bedroom has original tongue-and-groove panelling, an ornate fireplace, antique chest of drawers and copper coal scuttle. White dressing gowns are a thoughtful touch – the (private) bathroom is next door – as are the complimentary bottles of cava, sparkling water and fresh milk in the fridge, and the wine glasses, corkscrew and torch. In the bathroom, a note next to the soap from the Isle of Skye Soap Company suggests you take it home as otherwise he will have to throw it away. A green tick for that.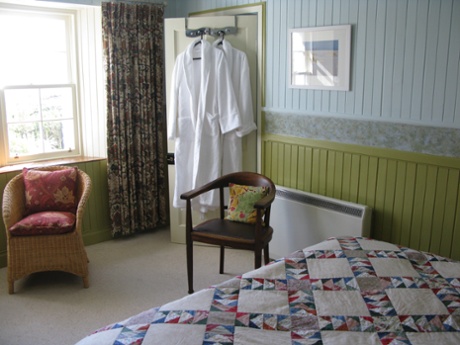 Dinner sorted, I drove to Braes beach, five minutes down the lane, for a wild, windswept walk. With the sun dipping, waves lapping on the shore and the jagged Red Cuillins looming in the distance, I was falling under the island's spell.
Over dinner by the woodburner, Alan told me his tale. A civil servant from Milton Keynes, he fell in love with the island and holidayed here for over 20 years. After two years looking for the perfect spot, he found Rowan Tree Cottage in 2011, and put an offer in the same day.
What I couldn't appreciate until the following morning was the jaw-dropping view. From the breakfast table the cottage faces south-west and you can see the Red Cuillins, Dun Caan (an extinct volcano on the Isle of Raasay), and, on a clear day, the Five Sisters of Kintail, over on the mainland.
What was on the table was equally worthy of praise. Alan bakes his own bread, grinds coffee beans, squeezes oranges and makes the jams, marmalade and lemon curd.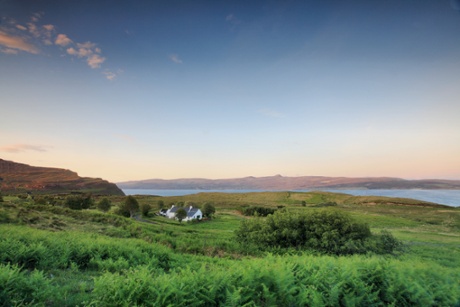 I had it on good authority – Alan – that while some places were closed, back in Portree, the Isle of Skye Baking Company, an artisan bakery and cafe in an old woollen mill with a gallery upstairs, was open, so I stocked up on its signature lunch box bread (fillings such as leek, bacon and goats cheese baked into the bread) before heading home – with Alan's lemon curd recipe tucked in my pocket.
• Accommodation was provided by Rowan Tree Cottage, Achnahannaid, Portree, Isle of Skye, 01478 650 278, rowantreecottageskye.com . Double/twin £100 a night (two nights minimum stay)