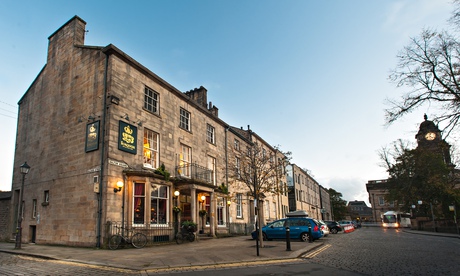 "Lancaster doesn't have a nightclub scene, but it does have great pubs," Rory Walker tells me. Given how embedded in that world Rory is, he should know. We are standing in the Borough's cellars, where Rory brews, as Borough Brewery, three of the eight real ales you'll find on the bar upstairs: try his hoppy, US-style Pale.
That commitment to real beer is one reason why this gastro-boozer, a listed Georgian townhouse, once the mayor of Lancaster's house, is so popular locally. Even on a Tuesday night – mid-World Cup but no telly on – it is busy. Now, with nine new bedrooms, visitors can ponder its appeal.
On the third floor, and in the building next door, these rooms are so new that, on my visit to the suite, there is still a stray streak of paint on the rear window pane. That window looks on to a fenced patch of rubble and earth, yet to be titivated. The blind had been pulled down to hide all this. Little wonder. That work-in-progress is in stark contrast to the view from the lounge across handsome Dalton Square or the room itself which, overall, is peachy.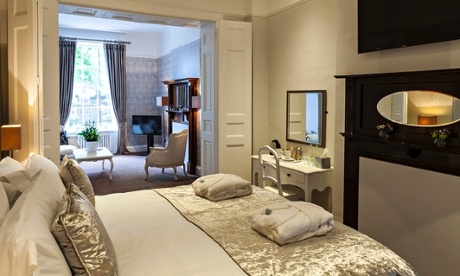 The panelling covering the original fireplaces is ugly, and some of the furnishings (cream leather sofa, silvery velvet cushions) borderline bling, but the off-white/grey colour scheme is neat, the modern, patterned wallpapers smart and clutter-free. Ornamentation is limited to a centrepiece of flowers and a lovely antique, freestanding mirror.
All fixtures in the wet-room bathroom feel solid and robust – reassuring for this clumsy lummox – and I like the posh Cumbrian Bath House toiletries. Huge dividing doors shut off the bedroom from the lounge and, in this silent cocoon, on a six-foot wide bed (cotton sheets; topped, super-thick, firm mattress), I sleep soundly.
Admittedly, that was after a few pints with dinner. Eat in the cosy bar area if you can (all burgundy Chesterfields, ancient blanket boxes and flea-market Victoriana), rather than in the plainer restaurant section, where loud music (Stone Roses fine; UB40 not) bounces off its hard, wooden surfaces.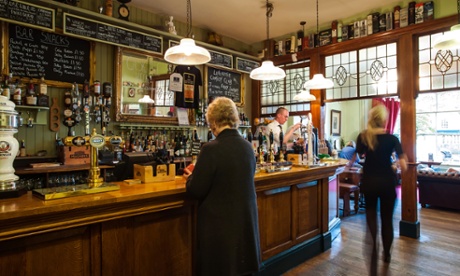 For the money (mains, £11-£15), chef Ash Rehman's food is broadly impressive – his kedgeree is fantastic – but niggling irritations blunt its overall impact. For instance, the steak-and-ale pudding needs a design overhaul. The skin-on chips are as bronzed and tasty as Ray Winstone in Sexy Beast, but the pudding only comes alive when I break open its, frankly stodgy, suet casing and pour extra superb, onion-rich gravy over the somewhat dried-out meat.
Next morning, scrambled eggs arrive on an unbuttered muffin (annoying). After, I take my brew out into the suntrap walled beer garden (lovely). That sums the Borough up. It is good, but it could be sharper.
• Accommodation was provided by The Borough (3 Dalton Square, Lancaster, 01524 64170, theboroughlancaster.co.uk), rooms from £90 B&B. Travel between Manchester and Lancaster was provided by First TransPennine Express (tpexpress.co.uk). For further information on Lancaster, see visitlancashire.com