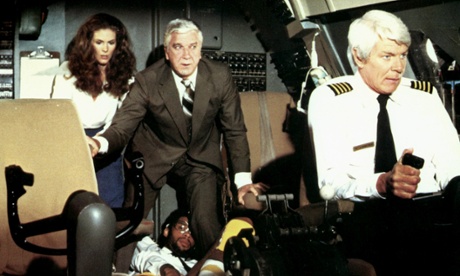 Volcano-a-go-go

Delays and detours normally mean bad news for passengers. Those on board an Icelandair flight last week, however, seemed more than happy to take the roundabout route as their pilot treated them to a couple of laps of the erupting Bardarbunga volcano. The "scenic" route gave passengers the once-in-a-lifetime opportunity to see smoke and lava billowing out of the crater below them, which more than compensated for the minor delay.
In 2012 a similarly thoughtful pilot on an Air Canada jet flying over Australia took his plane on a detour to help look for a missing yacht. Speaking to The Australian, Captain Andrew Robertson said: "I had already made a PA announcement telling passengers what we were doing and as we got into the area, I said: "We're coming into the search area, please everybody look out to the window and if you see anything let us know." Sure enough the yacht was found, and the sailor on board saved.
The Domino's effect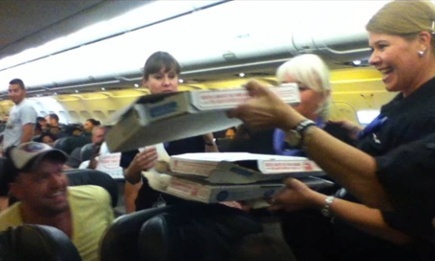 You could say it was the "best delay ever". A stranded Frontier Airlines plane had been stuck on the runway in Cheyenne, Wyoming, for over an hour due to bad weather when its (increasingly hungry) pilot, Gerhard Bradner, decided to take action – by calling Domino's and ordering pizza for everyone on board. Passenger Logan Marie Torres told Fox 31 about the moment the surprise announcement was made: "He said: 'Ladies and gentleman, Frontier Airlines is known for being one of the cheapest airlines in the US, but your captain is not cheap … I just ordered pizza for the entire plane.'" Needless to say, the plane erupted in applause. And as if that wasn't enough, Bradner paid for all 50 pizzas out of his own wallet.
Miracle on the Hudson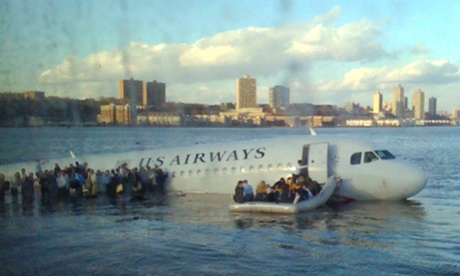 It's probably the greatest crash landing of recent history. When US Airways 1549 struck a flock of geese over New York, causing its engines to cut out, pilot Captain Chesley Sullenberger coolly landed the plane in the Hudson river, safely ditching the Airbus A320 into the water with everyone on board intact. Sullenberger was praised for remaining calm and collected throughout the incident – which became known as the "miracle on the Hudson".
But if Sullenberger seems cool-headed to you, spare a thought for pilot Eric Moody, whose plane suffered complete engine failure at 37,000 feet after flying through volcanic ash over Indonesia in 1982. In truly epic fashion, Moody made the following announcement over the Tannoy: "Ladies and gentlemen, this is your captain speaking. We have a small problem. All four engines have stopped. We are doing our damnedest to get them going again. I trust you are not in too much distress." Luckily for all on board, after the plane dropped to 12,000ft the engines restarted and it landed safely. Years later Moody told the BBC: "It was, yeah, a little bit frightening."
Can anybody land this plane?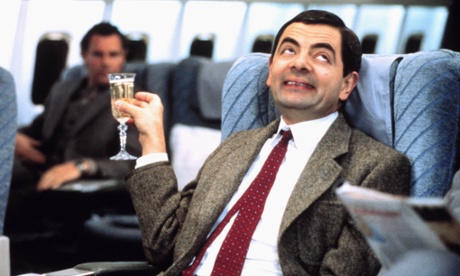 In a turn of events uncannily similar to the plot of the film Airplane!, an off-duty pilot was forced to jump into action when the captain of a United Airlines flight suffered a heart attack at 30,000 feet on the way from Des Moines to Denver, and staff had to make the desperate request: "Are there any non-revenue pilots on board? Please ring your call button." Fortunately, air force captain Mike Gongol was aboard and (after getting permission from his wife) he hopped into the cockpit to assist the co-pilot as she made an emergency landed at Omaha airport. It was equally fortunate that a nurse also happened to be on board; and she was able to take care of the sick pilot, who survived the attack.
British actor Rowan Atkinson – best known as clumsy, accident-prone Mr Bean – proved himself just as adept at dealing with an inflight emergency, when the pilot on his private jet passed out at the helm in 2001 while flying in Kenya. Atkinson was forced to take the controls, despite having zero piloting experience, but after a few slaps the pilot regained consciousness and landed safely.
Classical delay
Last February, passengers snowed in by bad weather at Lambert International in Missouri were treated to an impromptu concert, when pilot Billy Hock sat himself down at a piano in the airport. And we're not talking a quick singalong – Hock performed for a whopping three hours, solely playing music he composed himself. Although some of the 1,700 passengers – like those who ended up singing Hey Jude while stuck in Newark airport a few years ago – probably would have preferred a singalong, Hock's piano playing seemed to cheer up some of them, not least local news teams looking for an interesting angle on an otherwise mundane transport story.
Brick-by-brick travel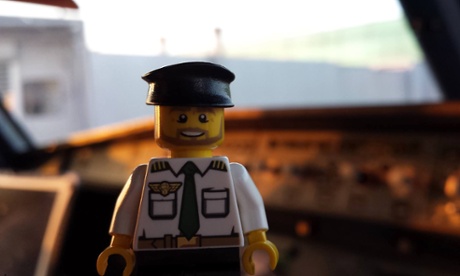 You may be sick of seeing "quirky" travel blogs in which someone takes a photo of a stuffed toy in front of a famous landmark, but this latest addition to the trend does, let's say, benefit from inside access to the aviation industry. The Lego pilot is the alter-ego of one anonymous British airline captain, who in March this year started taking creative snaps of the plastic toy on his travels. The collection includes some (slightly unnerving) photos of the Lego pilot sitting on the controls of the plane, as well as others of it looking out across the runway, or standing beneath the landing gear. The Lego pilot has already clocked up nearly 4,000 likes on its Facebook page, from fans eager to see where he will fly to next.