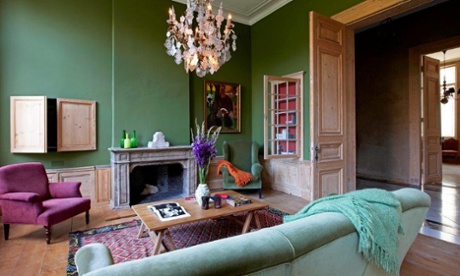 Only half an hour apart by train, Bruges and Ghent make the perfect combination for a weekend trip to Belgium. Bruges is the classic romantic getaway with its meandering canals and elegant gourmet restaurants, while Ghent is a more buzzing destination with boutique shops, late-night bars and bistros. Both cities have a host of tempting B&B accommodation, with those in Bruges tending to be a little more expensive and luxurious, while Ghent veers towards design and innovation.
BRUGES
B&B La Maison Zenasni
Difficult to imagine a better B&B in town than this enormous mansion, converted and decorated by Algerian Djamil Zenasni and his Belgian wife. Built on the site of an ancient church, the property dates back to 1782 and is so large that for the last century it was divided into two houses. Zenasni has ripped down the divisions, and lives in one part with his family while the other consists of a magnificent lounge and breakfast room for guests on the ground floor with five rooms upstairs. The owner has his own interiors boutique just round the corner, and rooms are furnished with plush sofas he upholsters himself. It's well worth paying £16 extra to book the top floor White Suite, a large open loft with a fitted kitchen.
• Ridderstraat 10, +32 478 23 21 07, lamaison-zenasni.be, double room with breakfast from £88
Owner tip: Head to Depot D'O for eclectic antiques, vintage and interior decor
B&B Contrast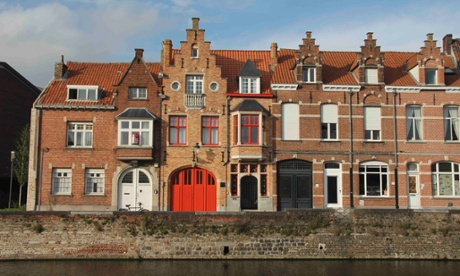 The enthusiastic owners of this unusual B&B certainly chose the name well, as guests have the choice of reserving a spacious, comfortable room in the main house, a 1930s building with art deco interiors looking out over the Coupure Canal, or one of the three futuristic spaces built at the back of their big garden. There is a metal and glass corridor running from the kitchen to the garden rooms – so guests don't get wet going for breakfast – and the red, blue and yellow rooms resemble a colourful spaceship inside with a self-contained bathroom and mezzanine chill-out zone. Breakfast is either in the garden or the glass atrium, and while Cathy bakes her own bread each day, her husband Dries rustles up a proper cooked breakfast or pancakes and waffles.
• Predikherenrei 5, +32 50 33 46 67, contrastbrugge.be, double room with breakfast from £68
Owner tip: At the first bridge across our canal, Punta Est, has the most romantic waterside terrace in Bruges with a great selection of Belgian beers.
The Herring's Residence
This is a new addition to the Bruges B&B scene, and although it is not cheap, the Herring's Residence is a unique place to stay. The Herring in question is the renowned Michelin-starred restaurant, Den Gouden Harynck, whose chef, Philippe Serruys, bought a small, whitewashed 17th-century cottage in a nearby courtyard, transforming it into a chic guesthouse, where for the price of a double room, the guest has the run of the whole place. On the ground floor is an ultra modern kitchen, with a snug lounge, bedroom and bathroom on the first floor, plus another sitting room and work space under the attic's ancient timber beams. In the morning, guests tell Philippe what time they want breakfast and it is delivered straight from the restaurant. Location is ideal, just behind the Groeninge Museum and Rozenhoedkaai, setting off point for Bruges' famous boat trips. Free parking is provided – almost a miracle in the city centre.
• Groenige 39, +32 50 337637, herringsresidence.be, double room with breakfast £120
Owner tip: To taste Belgian wines and some great organic and natural vintages from France and Italy, Cuvee is a casual winebar also serving tapas.
Guesthouse Abiente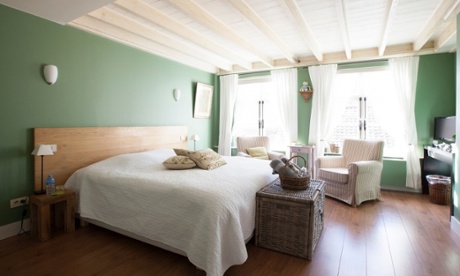 Another perfect location, by the picturesque Dijver Canal, Abiente is just two minutes' walk from the emblematic Belfry tower, immortalised in the movie 'In Bruges', and the buzzing Market Square. The young owners, Valerie and Willem, used to operate this as a classic B&B but decided this year to cut out the breakfast in order to keep rates more affordable. They have a list of nearby cafes serving breakfast, but it is just as easy to do it yourself in the upstairs communal lounge which comes with a proper kitchen. There are only two guestrooms, and while the house itself is 17th century, the interiors are bright and modern.
• Eekhoutsraat 30, +32 50 68 42 82, abiente.hotelsbruges.net, double room from £72
Owner tip: The Chocolate Line boutique is not to be missed, with a rock 'n' roll chocolatier who creates weird and wonderful tastes – imagine chocolate with fried onions!
Huis Koning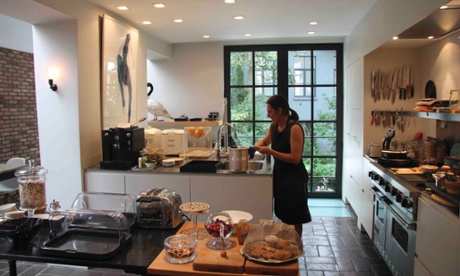 Although the 'King's House' is located in an imposing redbrick 17th-century building, it gets its name from owner Peter Koning, who runs the B&B with his wife Lynn. They have converted three rooms of their home for guests, simply decorated with retro 1970s furniture, while all bathrooms have rainforest showers. The big attraction here is an intimate breakfast terrace over the canal that runs along the house – also the perfect spot for a sunset aperitif. There is a big blackboard in the breakfast salon where Lynn writes up what is going on in Bruges, and every day she bakes a surprise treat – tiramisu, apple pie, waffles – which are left in each room for when guests come back from a long day of sightseeing.
• Oude Zak 25, +32 476250812, huiskoning.be, double from £88
Owner tip: Frederiek Van Pamel is one of the most creative interior designers in Bruges.
GHENT
B&B Door 10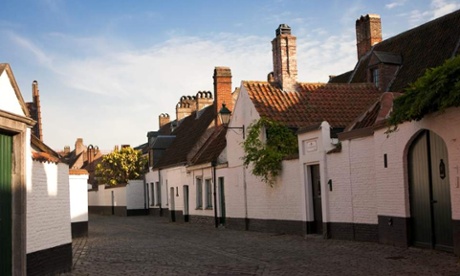 This is one of the newest B&Bs in Ghent, with a fantastic location inside the medieval and maze-like Sainte-Elisabeth Béguinage, a protected Unesco world heritage site. This tiny island of whitewashed cottages was home for the saintly order of Beguines and the poor women they cared for, although today the Béguinage is privately owned. Mieke Vandenabeele is a bubbly hostess, always around to give tips, and she has transformed one cottage into a three-room B&B, while she lives across the road, also renting out a self-catering studio (€150 a night). Right at the end of a cobbled alleyway lined with high redbrick walls, you push open Door 10 and walk into a romantic inner courtyard filled with plants. The interior resembles a doll's house with steep staircases and low wooden beams that you have to duck under, though the rooms are spacious and comfortably furnished. Mieke serves a healthy breakfast – natural yogurt and fruit from her garden, plus local cheeses and smoked ham.
• Provenierstersstraat 10b, +32 475 65 02 97, door10.be, double room with breakfast from £104
Owner tip: The Mosquito Coast is a funky world food cafe and also serves the best traditional Flemish Carbonnade – beef braised in beer.
B&B Verne Dreaming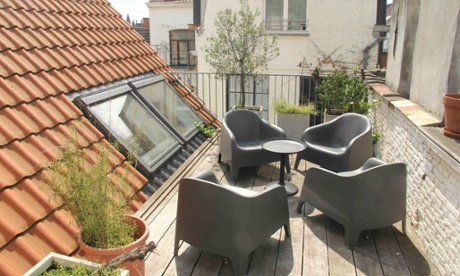 Located near the brilliant Saint-Jacob weekend fleamarket, this quirky B&B was the fantasy creation of a well-known local photographer and is now run by restaurateur Jean Dragonetti, who also has a private dining venue. The rooms are enormous, each one taking up most of a floor. Shanghai is a riot of red velvet furnishing and Buddha statues, resembling a decadent 1900s Chinese bordello, and comes with its own jacuzzi in the garden. Them Oxford room has everything from a model train running round the room to a leather chesterfield, an ancient gym pommel horse and a Victorian freestanding bathtub. And the new California is an airy attic duplex, decorated in cool white with black and white fashion photos, as well as a private rooftop terrace.
• Sint-Jacobsnieuwstraat 46, +32 483451446, vernedreaming.wix.com/bedandbreakfast, double with breakfast from £80
Owner tip: Dine at the hip De Vitrine, but let the poseurs try to reserve a table and just enjoy tapas at the bar of this ancient butchers shop
Snooz Inn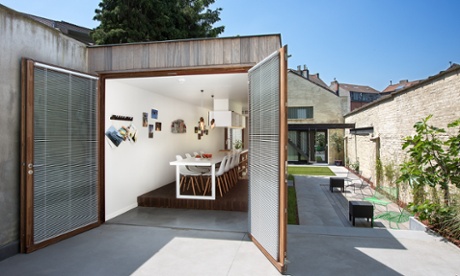 This is Ghent's prize design B&B – a 19th-century printing works that was transformed four years ago by Kurt Van Den Abeele. While the grand mansion, that stands on a quiet leafy street, has been beautifully preserved, once you walk through the main house you come out into a big garden, which guests can use, where Kurt has built a stylish wooden cabana housing the kitchen and breakfast room – all the furniture and fittings were custom-designed by a local company. Then at the back of the garden, the atelier storing the old printing presses has been converted into two minimalist guestrooms featuring futuristic shower pods which double as a steambath and jet massage, while in one room the TV is projected on to a white wall – your own home cinema to watch while in bed.
• Ham 89, +32 496 24 14 26, snoozinn.be, double from £76 without breakfast
Owner tip: Publiek has just opened up a few houses down the street, serving innovative cuisine by chef Olly Ceulenaere of the Flemish Foodies movement.
Guesthouse PPP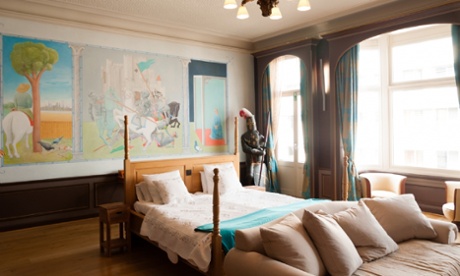 Perfectly situated a few minutes' walk from the picturesque Korenlei canal and its grandiose medieval guild houses, this friendly B&B is housed in a massive neo-classical townhouse that has been splendidly renovated by Dorien and Philippe, who live here with their two kids. As you enter on the ground floor there is a grand drawing room where a copious breakfast is laid out, with an ancient marble fireplace contrasting with avant garde paintings. In fact, the whole house is a striking mix of its original 19th-century elements and modern design and art. Each of their five rooms has its own theme, ranging from the kitsch Duke of Flanders room with an historical mural and grand four-poster bed, to the Modern Room, with its art nouveau stained-glass skylight and free-standing bath that looks out over a small private balcony.
• Poel 9, +32 9 334 63 77, guesthouse-ppp.be, double room with breakfast from £80
Owner tip: Nearby Onderbergen street is just off the usual tourist track with creative restaurants and boutiques, including Vintage which specialises if wine/food pairings.
B&B Design & Breakfast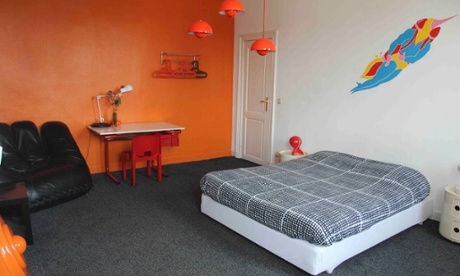 This waterside family-run B&B is 10 minutes walk from the city centre in a residential neighbourhood with plenty of genuine local bars and restaurants well off the tourist track. Only two rooms of their grand house are rented out, both looking out over the pretty Leie river, with a lush garden at the back which guests have full use of. Ann Ost and her husband run a design agency, and the interiors of their home reflect their two passions; retro furniture and up-and-coming young artists. So be prepared for pyschedelic murals and vintage orange lamps and chairs. Excellent breakfast.
• Ferdinand Lousbergskaai 121-123, +32 486 59 07 13, designandbreakfast.be, double room with breakfast from £64
Owner tip: Fabula Rasa is the neighbourhood's favourite local bistro, just at the corner of our street.